Daemon Tools provides users with different software for optical media emulation.
The products provided by Daemon Tools are 4:-
Daemon Tools Lite
Daemon Tools Net
Daemon Tools Pro Standard
Daemon Tools Pro Advanced
The Lite version of the product provides users with the basic backup functionalities. Images of discs ( CD/DVD/|Blu-ray ) can be made, compressesd, splitted and password protected. Up to 4 virtual devices can be mounted simultaneously.
The variety of formats recognized is many. The format of the mounted image may be:
.mdx, .mds, .mdf, .iso, .b5t, .b6t, .bwt, .ccd, .cdi, .cue, .nrg, .pdi, .isz
The software is presented in a user-friendly interface with the possibility of a quick access via the program icon in the system tray. Automation purposes can also be carried out through the Command Line Interface.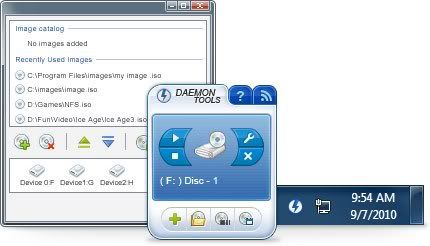 Daemon Tools Net is a simpler program, allowing users to mount disc images and configure shared network access to them.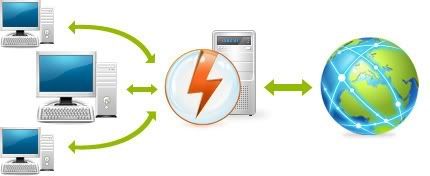 In addition to some of the basic funtionalities available in the Lite version, Daemon Tools Net provide users with a powerful Image Editor and allow the conversion of images from one format to another.
The Pro Standard version is a more professional one with basically the same functionalities as the Lite version, in addition to nnumerous new features allowing images to be mounted to NTFS folders. Up to 16 simultaneous virtual devices may be built. Images can also be burnt with RMPS data. Images can be composed with the preferred file system (ISO9660, ISO9660+Joliet, UDF).
This version also contains an Image Editor and is integrated with Windows Explorer, as are the others. Using File Associations to mount images right from Windows Explorer or any other file manager is possible.
Daemon Tools Pro Advanced is the best product available and is a professional and advanced version of Daemon Tools. It consists of most of the functionalities present in the others, and some of them are improved.
Up to 32 SCSI devices can be emulated and 4 virtual IDE devices can be used for advanced emulation. An additional feature allow users to mount images to physical IDE/SATA devices via advanced attaching.
Note that all the version are compatible on Windows 7.
Share this post on Daemon Tools